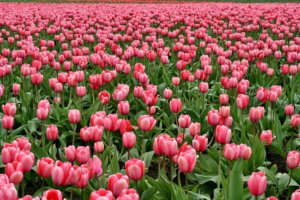 The brilliant blue sky and warm temperatures of the past few days certainly woke me up out of my winter hibernation! It's almost impossible not to feel a surge of energy and optimism during spring: trees are blooming, bulbs are bursting from the soil and shrubs are leafing out, all in a riot of color and texture.
One of the best things about spring gardening in the Portland area is the plethora of landscape, garden and flower events, which are not only fun but also educational for the whole family. These events are among the best ways to learn about landscaping and gardening in Portland and the Pacific Northwest – what plants do best here, how to prepare the garden soil, elements of landscape design, and more. Not to mention the sheer fun of shopping for native and ornamental  shrubs, bulbs, perennials and trees.
Plan now for spring garden adventures  – for fun and education –  including perennial favorites (pun intended) like the Woodburn Tulip Festival
and Hortlandia, the Hardy Plant Society of Oregon's annual plant sale. If like to include your dog in your adventures, be sure to check if dogs are welcome.
Here's some events to keep you busy through the next few months of spring gardening:
Wooden Shoe Tulip Fest
Wooden Shoe Tulip Farm
March 23–April 30, 2018 Daily, 9am-6pm
33814 S. Meridian Rd. Woodburn, OR 97071
Stroll through 40 acres of stunning beauty, experience expansive views of vineyards, distant mountains, and a few mud puddles. Fresh flowers, food, and fun for the entire family, including well behaved dogs on leashes!
GardenPalooza
Saturday, April 7, 2018 • 8:00am–4:00pm
Fir Point Farms, 14601 Arndt Rd.
Aurora, OR 97002.
Over 40 vendors to get you excited about gardening. See hundreds of plants, tools and garden art. People can also enjoy shopping at the country store, fresh doughnuts, delicious food and much, much more! Lots of free on-site parking!
Soil School 2018
April 7, 2018
PCC Rock Creek Event Center
$30 per person or $50 for two people (Breakfast snacks & lunch provided)
Soil School 2018 will be a day packed full of information for small acreage farmers, landscapers, gardeners, grounds managers and anyone else who wants to improve their soil. The health of your soil determines the health of everything growing in it—the food you eat and the plants you grow.  Soil School.
Hortlandia
HPSO Spring Plant Sale
April 14-15, 2018
Hortlandia 2018: Spring Plant & Art Sale
Spring Garden Fair
May 5 – 6, 2018
Clackamas County Fairgrounds, Canby, OR
Shop for plants and garden decor, eat at the food court, ask a master gardener questions, and choose from 10-minute classes at the Spring Garden Fair at Clackamas County Fairgrounds in Canby. 
Camas Plant & Garden Fair
May 12, 2018
Camas, WA
Camas Mother's Day Plant & Garden Fair features plants, trees, garden art, kids' activities, live music, and food vendors in pretty downtown Camas, WA. Free.
Mount Pisgah Arboretum Wildflower and Music Festival
May 20, 2018
Mt. Pisgah Arboretum
Eugene, OR
This Wildflower and Music Festival has flowers on display, plants for sale, experts to answer questions, food, arts and crafts, music, guided walks, and kids' activities at Mount Pisgah Arboretum in Eugene.
Thank you to the Association of Northwest Landscape Designers (ANLD) for providing many of the events on this list in their member newsletter. If you aren't familiar with ANLD, it's Portland's local landscape designer association, with more than fifty members. ANLD provides educational programs, fellowship, and advocacy for its members and the landscape design community at large. It is also home of the popular annual Designer's Tour (on hiatus in 2018).